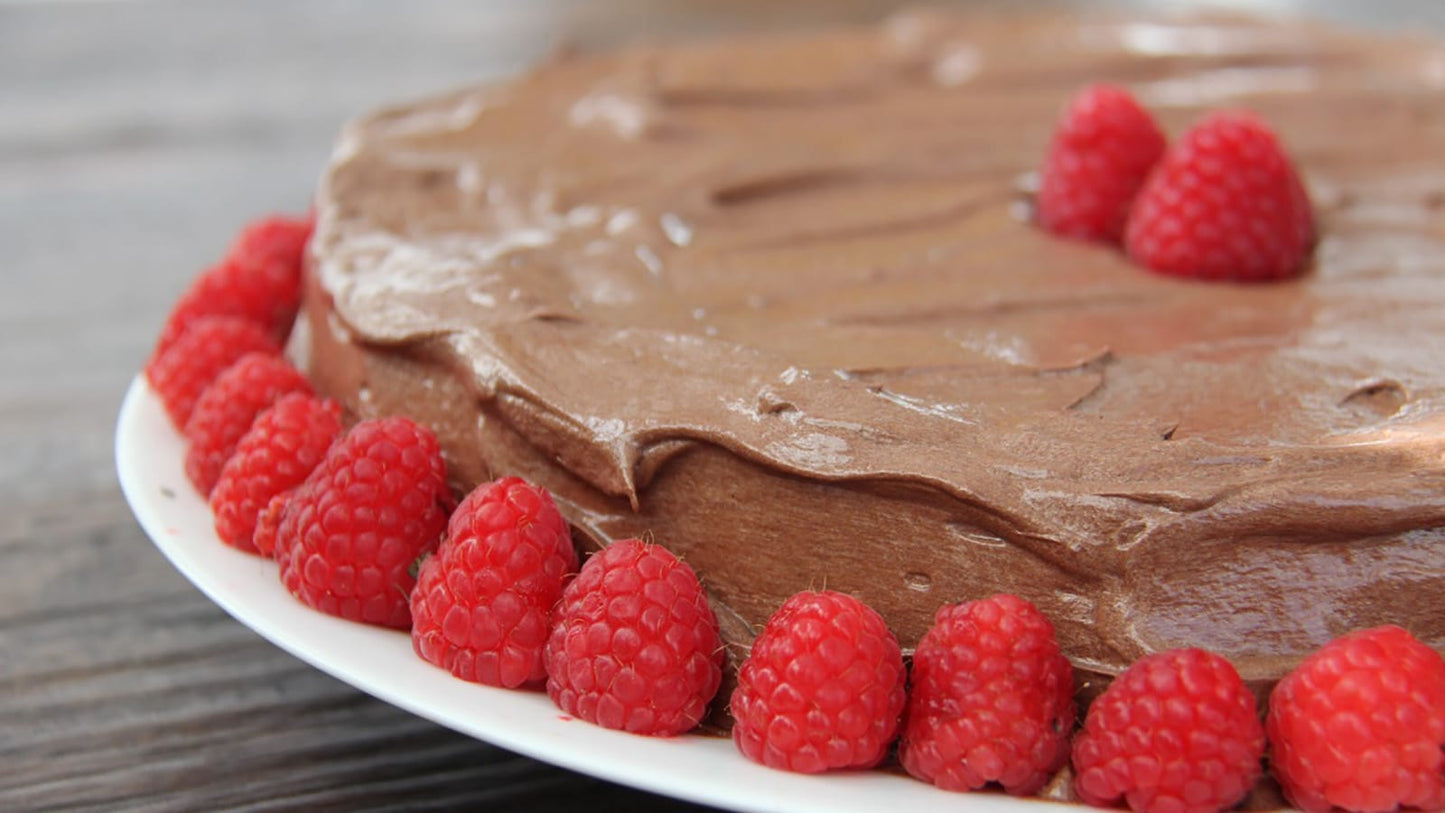 Purity's Decadent Dark Chocolate Cake with Chocolate "Buttercream" Frosting
(Gluten-Free, Dairy-Free, Grain-Free, and Honey-Sweetened)
Although I try not to have favorite recipes, this cake is definitely one of my favorites. I love how easy it is, since everything gets thrown into the blender. I love how rich and decadent it is. And, I love that it uses cashews instead of flour! I'm really proud of this creation. I hope you enjoy it as much as I do. Adding coffee to the cake makes the chocolate taste more chocolate-y. And, when you add Purity Organic Coffee, you get to take advantage of all the great health benefits and antioxidants in this amazing coffee! Store the frosted cake on the counter. If refrigerated it will become less moist. Serves 10
Ingredients
10 oz. high-quality dark chocolate (I use 72%), melted and cooled slightly
¼ cup strong brewed Purity Organic Coffee, room temperature*
5 large eggs
¾ cup mild honey
½ cup non-hydrogenated vegetable shortening**
2 tsp. vanilla
1 cup raw cashews
2/3 cup unsweetened cocoa powder
¼ tsp. salt
1 tsp. baking soda
Notes
*If the coffee is hot, you'll end up with scrambled eggs.
** I use Spectrum Organic. Make sure you get a brand that has an "orangutan-friendly" label. Most palm oil comes from Asia where orangutan habitat is rapidly being destroyed. Spectrum Organic, however, gets theirs from Colombia from small, sustainable farms.
Directions
Preheat the oven to 350ºF. Prepare a 9-inch springform pan. Place the pan on a piece of parchment paper and trace around the circumference with a pencil. Cut the parchment paper to the size of the pan. Grease the pan with vegetable shortening, both the bottom and the sides. Line the bottom of the pan with the parchment paper and then grease the top of the parchment paper.
Chop the chocolate and place it in a double boiler or in a heatproof bowl over barely simmering water, stirring occasionally. Once the chocolate is melted. Remove from the heat and allow to cool slightly.
Place all the remaining ingredients into a high-power blender in the order listed. Start on low power and slowly work up to high. Process on high until the mixture is smooth and well-aerated, about two minutes. Add the melted chocolate and process for another minute or so, until completely mixed. You may need to scrape down the sides of the blender a couple times if your blender doesn't have a tamper.
Pour into the prepared pan and bake on the middle rack until an inserted toothpick comes out clean, about 25 minutes. If the outside appears to be cooking faster than the inside, reduce the heat to 325ºF. Cool on a rack until the pan is cool enough to touch. Remove the cake from the pan and cool completely before frosting.

Chocolate "Buttercream" Frosting
¾ cup non-hydrogenated vegetable shortening
2 tsp. vanilla
½ cup + 1 Tbsp. mild honey
1 Tbsp. strong brewed Purity Organic Coffee
½ cup unsweetened cocoa powder
Whisk the vegetable shortening in a standing mixer on medium-high until soft (either the paddle or whisk attachment will work). Add the vanilla, honey, and coffee and mix on medium-low until fully combined. Add the cocoa powder and whisk on medium-low (or whatever speed will keep the cocoa from flying out of the bowl and all over you) until light and fluffy, about 3 minutes.